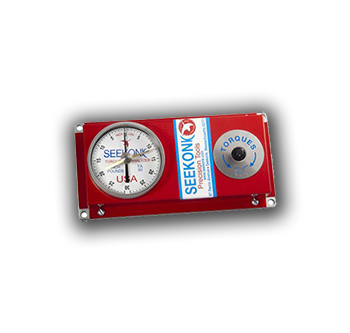 Services
REPAIR & RECALIBRATION SERVICES
All new Seekonk Precision Tools are manufactured complete with NIST traceable certs. Higher levels of certifications are available upon request for a nominal fee. All torque tools are made in accordance with Federal Specification MIL-STD-45662A. Tools are available with unique serial numbers for a small additional fee.
Tools are guaranteed accurate for 90 days. Under typical use certifications are valid for a period of one year. This period represents expectations under normal use and environment. In critical applications or severe use, more frequent certification would be considered prudent.
Seekonk Precision Torque Tools can be repaired and recalibrated for a minimal charge. Plumbing tools are repaired depending on condition of tool.
Field service is not recommended for repair or calibration. Tools that have been modified or altered void manufacturer warranty.
Forward all tools to the attention of our Service Department including a
CRF
for the repair calibration with a contact name and phone number. Tools are recalibrated or repaired within 2-5 business days of receipt. Tools requiring extensive service may incur additional fees.
CUSTOMER RETURN FORM
CALIBRATION SERVICES
PRESET
ADJUSTABLE
TYPE 1
STANDARD NIST TRACEABLE / NO READINGS
$40.00
$45.00
TYPE 2
CERTIFIED CALIBRATION W/READINGS
$60.00
$80.00
TYPE 3
CERTIFIED CALIBRATION BEFORE/AFTER READINGS
$105.00
$140.00
TYPE 4

ISO 17025 CALIBRATION

Customer acknowledges its acceptance of the Simple Acceptance Rule (W=0, AL-TL) per ILAC-G8:09/2019

$200.00
$200.00
TRANSDUCER CALIBRATION
$170.00
WARRANTY
Tools are guaranteed for ninety days with a limited parts and labor warranty. This warranty is void if in the judgement of Seekonk Manufacturing, a tool has been altered or abused.
Calibration guaranteed for ninety days. Within that time if it is suspected that the tool is out of specification, we will recalibrate at no charge.
One year manufacturing warranty for tools requiring repair due to manufacturing defect.
CUSTOM
Eighty years of experience makes us well qualified to solve your torque tool needs and meet your unique requirements. We welcome the chance to design and manufacture your custom torque tools. See the Custom Tool page to see examples of our custom torque tools.